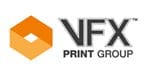 I would like to take this opportunity to praise Deborah Quinn of Clarity Marketing in the work they have done for Visual FX (VFX).
I was amazed at how quickly Deborah managed to identify opportunities and we have seen an increase in sales resulting from the campaigns that we are extremely happy with.
Deborah is a pleasure to deal with, and her communication and marketing skills have been an asset to our company. All projects are completed in a time effective manner and budget is always a consideration when putting strategies in place.
At VFX we have found that all aspects of our business such as sales, customer retention and sales stream have all been improved while we have employed the services of Deborah.