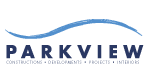 Having worked with Deborah in various capacities over the past 10 years, both at Walker Corporation and now in my current role at Parkview, I can say with confidence that she exceeds our expectations on every occasion.
In the highly competitive property development industry it is vital to always bring that "something special" in an effort to keep your company ahead of its rivals. Deborah and her team take the time to really understand our business – what we do and what makes us different. From this intimate knowledge and understanding they are able to produce tailored and highly professional material for each project and for our day-to-day business branding. This includes everything from custom design tender documents, to office stationery and business cards.
We know that we are able to produce top-level construction projects. Having the relevant collateral to be able to communicate that to a wide range of stakeholders is integral in being able tender for, and secure, the high-end jobs we know we deserve.